Cardboard Fanfold
The cardboard fanfold is ideal for the production of boxes on demand.
Fanfold cardboard is a cardboard sheet continuously folded like a fan, which allows automatic feeding, it can also be applied in manual applications and cut as needed.
If you have different product dimensions in your process, our recommendation is the cardboard fanfold, an option that will allow you to reduce inventories, save space, reduce waste and produce packaging according to the products you handle.
We have a wide variety of flutes and resistances from without guarantee up to 55 ECT, as well as national and imported papers, they can also be manufactured with special coatings.
All our sheets are certified to guarantee their performance.
250,000
TONS
Manufactured annually
2
Co-generating power plants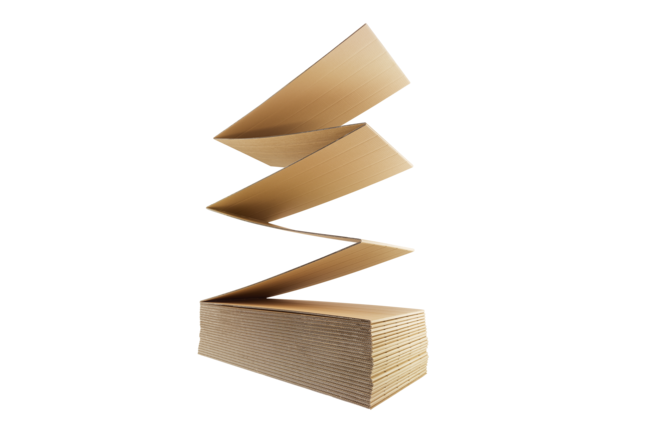 The liner and medium paper can be configured according to the needs of the client, choosing features such as:
Caliber
White or kraft finish.
Special coatings, among others.
Min Lengths: 500mm Max: 6000mm
Min Widths: 280mm Max .: 2760mm
Flutes: C, B, E
Resistors: From without guarantee to 55ECT
Delivery time of corrugated cardboard of 48 hours, meanwhile, we allow our clients to have a lower stock of corrugated cardboard in their facilities, which translates into space savings and greater productivity.
We handle emergencies with delivery time of 24 Hrs on special orders.
Tracking orders in real time via web and customer service via call center. As well as, an agent is assigned to the corporate account.
We are supplied by our own paper mill, which guarantees its quality and at the same time, we will always have a supply of raw material.
Contamos con una amplia variedad de recubrimientos disponibles como:
Impermeables
Anti – abrasivo, anti – estática también anti – inflamable
Parafinado
Michelman
Aplicación de goma impermeable sin restricción de m2.